Dog Training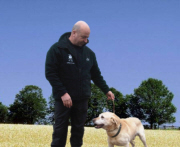 We offer private tuition for you and your dogs needs.
From puppy to adult, we can tailor a programme to meet your requirements
Dog Training
Our private tuition training sessions are ideal for people who want to concentrate on specific areas of their dog's training and behaviour. These types of sessions are also better suited to dogs that are nervous or reactive in a group scenario.
Our private tuition sessions also suit people who prefer a more personal service away from the class environment.#
Private tuition training sessions are tailored to suit the exact needs and requirements of you and your dog.
Sessions may be booked on a 'one off' basis or block bookings.
Sessions last approximately 1hr. We will obtain a full history, discuss your requirements at length.
We will observe and report on existing pet behaviour and support you with a tailored training programme to improve on highlighted issues.
Full telephone/email support is available between follow up sessions.
Private tuition training sessions can be held in the local area or in your home.
Puppy needs: basic commands, house training, biting, play and loose lead walking.
Adult Dog needs: from basic obedience to more advanced specialised training.
Class situations do not suit all dogs or people, this is where our Private Tuition comes into it's own.
Please call
07968 898037
for a free consultation
Private Tuition

Price

Private tuition adult dog training

£50.00

Private tuition puppy training

£50.00

Private tuition dog behavioural rehabilitation

£50.00

Dog walking and training

£50.00